Come and see us at any of the Events we are going to in future! We can talk you through our products and answer any questions you might have. The added bonus is that we usually have a special Event Discount so you can pick up what you need at a reduced price and take it away there and then.
You can also see where we've been! We're not hiding because we know CMO works and everybody needs it to protect yourself and your loved ones from the adverse effects of EMFs.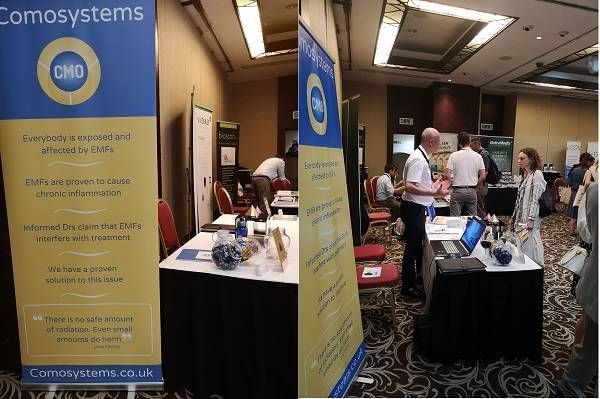 Comosystems UK & Ireland exhibited at 7th International Congress of Naturopathic Medicine Conference in London earlier this year. We generated a lot of awareness about EMFs from the international group of Naturopaths who attended from countries all over the World including Canada, India, France, Australia and many more.

ICNM is the World's #1 Alternative and Natural Medicine conference, endorsed by 185 World Health Organizations, Universities & Federations with the mission of uniting the international community, experts and researchers. There were more than 30 world renowned speakers, experts and researchers over the 3 days of lectures promoting proven ways of delivering healthcare & wellbeing worldwide.
Health OPtimisation Summit 2019

Comosystems UK & Ireland were proud to be present at the inaugural Health Optimisation Summit in September 2019. Thanks to the considerable efforts of Tim Gray and Dasha Maximov, Biohackers from all over the world descended on Olympia in London for 2 days of lectures from the greats of Biohacking including Biohacking founder Dave Asprey, renowned Gerontologist Aubrey de Gray, John Gray, Robert Slovak and many others.
Dr Erica Mallory-Blythe, founder of PHIRE (Physicians' Health Initiative for Radiation and Environment) spoke on the existing dangers that are proven about EMFs and the coming 5G.
Comosystems founder Maurice Fillion-Robin (on the left in the bottom photograph) gave a presentation about CMO technology and how it enhances the ability of the body to respond to whatever other biohacking techniques you are employing.
The Comosystems UK & Ireland team spoke to hundreds of people who are trying to optimise their health from many different angles including nutrition, exercise, supplements and techniques like cryotherapy, Infra-red saunas and all manner of technologies. It was great to interact with a group who are so aware of current health issues that they didn't question whether EMFs are a danger - they just wanted the best proven solution on the market and were happy to buy CMO.
Listen to a Podcast recorded at HOS 2019 by Biohacker Blogger Tony Wrighton talking to our own Roger Meacock (on the right in the bottom picture).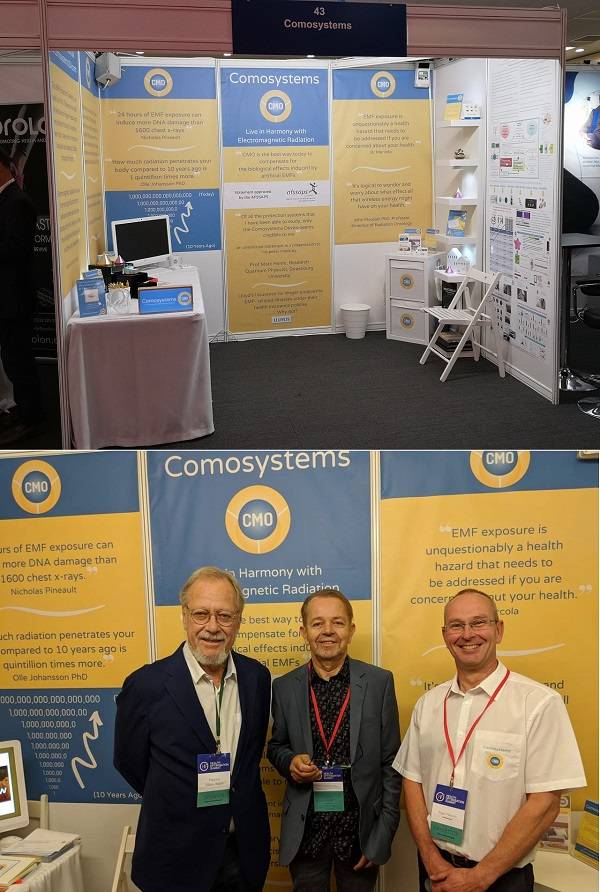 January 2021 UK Health Radio interview

Due to his recognised expertise in this area, UK Health Radio Presenter, Dora Walsh invited our MD Roger Meacock for an interview on the adverse effects of EMFs and how you can best mitigate and protect you and your loved ones.
Listen to the full radio show here